Lynne is available for both keynote and guest speaking–virtually.
---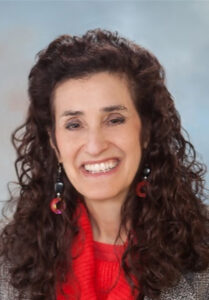 As Executive Director of Kidsbridge Center outside of Trenton, New Jersey—a nonprofit organization dedicated to fostering bullying prevention, diversity appreciation, anti-bias, empathy, and empowerment, Lynne is a tireless advocate for improving the lives of at-risk youth in communities across New Jersey.
Kidsbridge is the only evidence-based center dedicated solely to youth in the country, with more than 2,500 preschool, elementary, and middle school youth improving their social-emotional skills each year.  Visiting youth divide into small groups to discuss strategies for addressing: bullying, cyberbullying, stereotypes, media literacy, UPstander strategies, bias, diversity appreciation, and other related topics. During Covid, Kidsbridge programs are remote -wherever the students and teachers might be.
She graduated from Penn State University (B.A. in Anthropology) and earned an MBA in marketing/marketing research from Columbia University, winning many awards and been published both in local newspapers and academic journals.
She is a frequent speaker to major educational groups, including the New Jersey Education Association, the New Jersey School Counselors Association, and the New Jersey Afterschool Conference, as well as the American Alliance of Museums.
An active social justice partner Lynne is:
Co-founder of La Convivencia – an interfaith social justice advocacy coalition
Co-founder of the Coalition of Natives and Allies – CNA to address racist sports mascots
Co-founder, Sister of Salaam Shalom –SOSS –West Windsor chapter
Board member for American Jewish Committee- Princeton, Capital Philharmonic of NJ, Greater Trenton Jewish Cemeteries, and the Jewish Community Center Abrams Day Camp.
Awards:
One of three finalists for former New Jersey First Lady Mary Pat Christie's NJ Heroes Award for nonprofits focusing on anti-bullying (2016)
Inducted into the New Jersey Women's Hall of Fame (2012)
American Conference on Diversity Award – Princeton Chapter
Community Partner Award – Isles YouthBuild (community-based youth program dealing with high dropout and low employment rates)
Merrye Hudis Shavel Pearl Award for Outstanding Community Leadership from the Jewish Federation of Princeton Mercer Bucks